The Chop told me today that if I was still blogging, I should write about people who say they get pets to prepare themselves for kids. For one, they don't prepare you (they seriously don't) and for two, they begin to THINK they are your kids. Which is bad, because you're now stuck with entitled pets. Get pets after you have kids – that way they come into the family knowing the pecking order… they're at the bottom.
I laughed, but didn't respond re: the "still blogging" comment. Am I still blogging? Would I be considered a blogger? I want to write – at least twice a day I think of something I want to expound on – but by the time we get the kids to bed, I'm exhausted and I have to do dishes and then work for at least four hours. Nine times out of ten I completely forget that I wanted to write in the first place and the odds are good that if I did remember, I would've forgotten what I wanted to write about.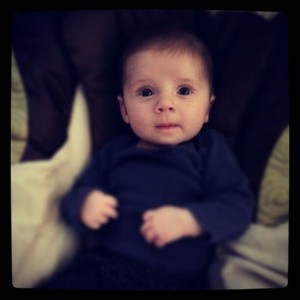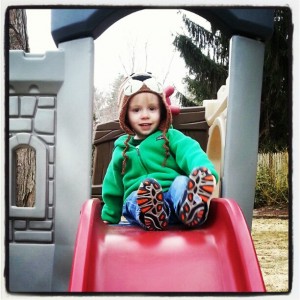 I adore having two kids. I'm glad the Peanut will have a sibling and that we had them relatively close together. Half the time I want to have another (but then the Chop shakes sense into me), but I wasn't prepared for how hard it would be to have two kids and run a business. When you run a business, it doesn't matter that you just had a baby – you don't get maternity leave. Our type of business means we're always on call and we have hard deadlines – even though some of our clients sent me really nice notes and gifts, they still expect their work to get done right away.
And I get that, completely. I chose this type of work and I'm really glad I did – I actually love it – but there are some days that I really wish I had a regular job where I could leave at five and forget about every night. Where I actually had a vacation with no work at all and where I received 10-12 weeks of maternity leave – and no one called me to do or fix something the day after I gave birth. Where I wasn't trying to work with two kids wanting attention in the same room, and I feel guilty ignoring them… which means that my best working hours are when they're asleep.
It's nine on Sunday night and I just finally sat down. We all got up around 6 (the Bean first, the Peanut an hour later), then I napped for two more hours while the Chop took them both (the only way I'm surviving the nights). Then he napped for two hours while I took them both (a weekend treat)… then the Peanut and I went out to play and for a walk while the Chop stayed with the Bean who'd finally gone down for a nap. The Peanut fell asleep on the walk for fifteen minutes, which somehow negated his two hour nap for the day (ugh). So then there was playing, reading, dinner and a bath. During his bath I made dinner for us (and burned part of it because the Bean got hungry), then the Bean went down for her first long nap at 8. The Peanut went to bed around 830, I washed dishes and bottles and sat down to begin working. The Chop is currently folding laundry, but will start working as soon as he's done.
But damn, they're cute.