One of the best parts of our little jaunt to the Cape was that Regina could frolic on the beach and wear herself out.
One of the not-the-best, but still OK parts, was that we had to take her with us everywhere. (Information I did not have prior to renting this place.) This was irritating simply because we had her crate and she would've been fine for a couple of hours… but fortunately, Ptown is incredibly dog-friendly, and not only did we wear her out on the beach, we wore her out walking around town.
And she met dozens of new friends, had biscuits fed to her by the handful and praise lavished upon her goofy little head. In short, they all loved her and she them.
Readjusting to reality has been tough, to say the least.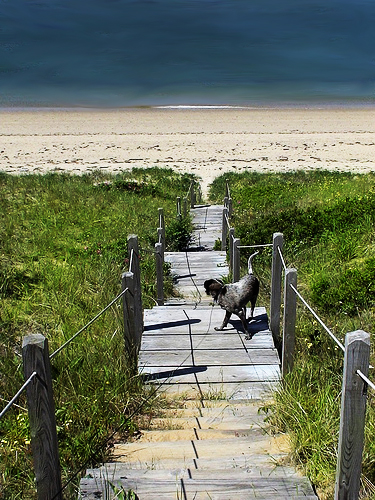 This was on our last morning, when we were leaving.
She was bound and determined to go back to the beach.
Oh, also, does anyone have any good recommendations for futon matresses? We don't have the space for a full bed in the second room (hi, bookshelves and cd racks galore), and we don't want a crappy futon that everyone will despise.