OK, so I'm sitting here eating a jar of olives (you know, the Mediterranean kind) thinking about the rest of my weekend up north.
First of all, I should mention that it was great to get away. With the divorce going on I just needed a break from being in the house and everything. On the other hand, having such a great weekend made me feel a little sad because it made me realize how much I wish I could share it with someone really special.
The next day we went on a 20 mile bike ride through Itasca State Park. It was really sunny out, so Ken recommended that I put on some sunscreen. I'll come back to this though.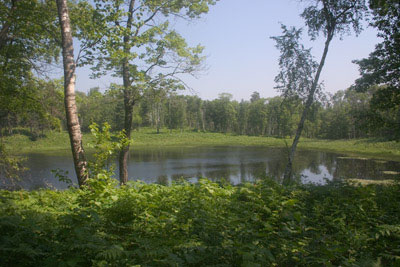 On the bike path.
About 15 miles into the ride we decided to stop at a little lodge for some lunch. Now it's bad enough that I'm losing weight from the whole divorce situation, but I figure that a 20 mile bike ride isn't helping. So for lunch, I order three turkey sandwiches.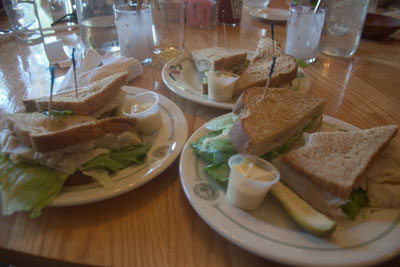 Sandwiches before.
For the record: these turkey sandwiches were small. Why do people give me so much crap for being a good eater anyway? Three sandwiches later we were back on the trail and then we decided to take a swim.
Sandwiches after.
For me, swimming after you eat is like running with scissors—there's nothing wrong with it.. It was so hot out the cool lake water felt really good, but there's something about the heat that makes mosquitoes and horseflies go crazy. Swimming in the water kept them away, but once we got out and started biking again, they were on all of us.
Three horsefly bites later I tried (unsuccessfully) smacking one. I look at my palm and it's orange. "the sunscreen" I think to myself. I show my palms to Ken who explains that his sunscreen has a bronzer in it. "Don't you know you're supposed to wash your hands," he exclaimed. Yeah, where in the Port-A-Potty did you see a sink or soap? There isn't a bathroom for miles—and this stuff is waterproof.
Twenty miles later I'm still staring at my orange palms wondering how long they'll be orange. Then Ken's brother, Robert, announces that we'll be going scuba diving at their parent's cabin.
Thirty minutes later, we're at the cabin and looking at the most spectacular view of what must be the cleanest, bluest lake in Minnesota. Shane's going to go diving first, so I opt to snorkel a bit. Amazingingly the water is just as blue under the surface.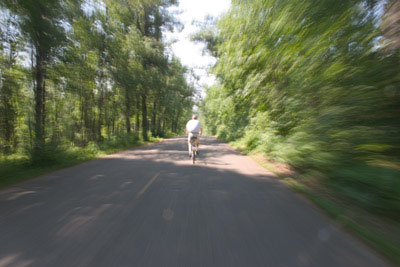 Biking at Itasca.
Shane's done, so I dive to find myself surrounded by sunfish. They're all looking directly at me. I explained to them that they weren't a food item so long as I was scuba diving and they proceeded to follow me around. Some of you may ask how I communicated with the pan fish—I'll explain another time; I'm almost out of olives.
The day ended with another fantastic meal (of course). While we were waiting for our food, we had to feed Robert's tame chipmunks. Yes, Robert has tame chipmunks. They like to be petted and love it when you feed them sunflower seeds.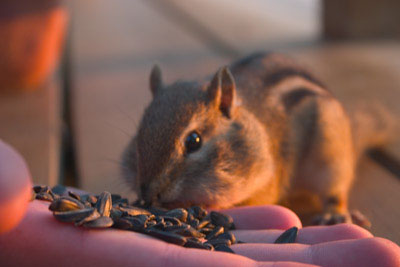 Donut the chipmunk.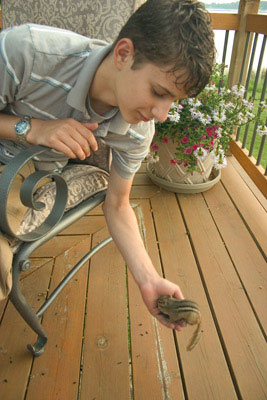 Shane with Donut.
We ate pork steaks with Jim Beam BBQ sauce. Pigs are tasty animals. We didn't bother with the bonfire as the mosquitoes were even worse.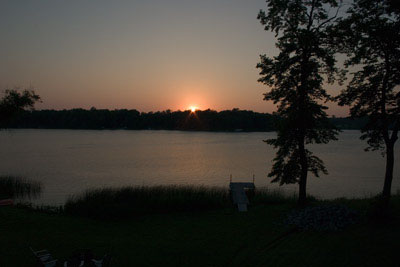 The North Woods sunset.
The next morning we decided to try fishing one last time. We were heading back in when a 2 – 2 ½ pound northern took my line. Finally! I caught my first fish of the weekend.
I was so excited when we walked back into Ken's cabin. Now we just need to clean up and get ready to go home, but as we walked through the door… It smelled like his dog's ass, but now it's ten times worse. It's Jasper, somehow his anal gland condition had gone from bad to severe.
Great, I get to ride home with this dog for 3 ½ hours today in 95 degree weather with no air conditioning.
We finish cleaning up and on the way back we hit the halfway point and neither Ken or I could stand the smell. We pull over to a gas station.
How do you know that you're far away from civilization? When you go to the magazine rack in a gas station and they ONLY have a porn section. Wasn't really expecting that, but I guess it gets lonely in these parts.
OK, I'm out of olives and I'm falling asleep sitting up.
ZZZZZZZZZZZZZzzzzzzzzzzzzzzzzzzzzzzzzzzzzzzzzzz
3 Comments »
Haha! I've been away from civilization too, and I know exactly what you mean. We once went to a mini mart in a town with a population of 3, yes, three people, and the mini mart had about to shelves full of old fashioned homeade candy, a fridge with some drinks, and, near the restroom, a huge rack with some old porn. I mean, seriously… it seemed like a nice quiet place, not a porno haven :)

I'm a fan of the chipmunk, personally.. ;)

Comment by the insider — Friday.July.15.2005 @ 3:42 pm

I was a fan of the sandwiches. :)

Comment by the guest — Monday.July.18.2005 @ 12:56 am
RSS feed for comments on this post. TrackBack URL
Leave a comment