This weekend a friend of mine invited me to his cabin up in Northern Minnesota. I didn't really know what to expect however the sound of getting away for the weekend was too good to pass up regardless of what was in store.
So last Friday I got home from work a little early, threw a few clothes in a bag and waited for my friend Ken to pick me up. Of course, I had to grab my camera too.
Here's a recap of the weekend:
Ken pulls up a little late. No worries, we still have plenty of time to make the three and a half hour drive. I put my bags in Ken's truck and he explains that his air conditioning isn't working. No problem, I was thinking. Usually I don't mind the heat. I climb into Ken's sweltering truck. Wow, it smells kind of funky in here I think to myself.
We drive to Ken's house to pick up his dog Jasper. Jasper is a very sweet Samoyed who lost one eye due to pressure problems and whose hips are completely degenerative. Ken lifts Jasper into the truck. That explains the smell – it's the dog. I think Ken sees my nose wrinkle up. My eyes are watering.
Ken explains, "Sorry, my dog has serious problems with his anal glands."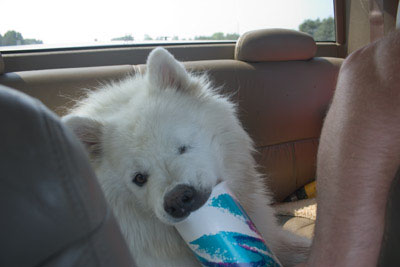 This is Jasper
Even with both our windows down (recall there's no air conditioning) Jasper's ass permeates the truck.
Three and a half hours later we pull up to Ken's cabin. He's got a beautiful spot right on the lake. It's dark out now and we walk up to the front door where there's a cloud of mosquitoes and other bugs waiting to carry us away.
We walk in and Ken introduces me to his brother-in-law, Mike and his nephew, Shane. I should probably mention that the only air conditioning Ken's cabin has is an in-window unit in his bedroom. It's probably about 90 degrees out still even though the sun has gone down.
I head off to bed and try to get settled in. It's way too hot for any sheets so I lay awake on my bed trying to get comfortable. I figure if I lay still enough I can cool down.
I can hear the whine of the mosquitoes. I feel a bite on my leg and a split second later I smack it. OK maybe the sheets aren't such a bad idea.
I pull the sheet up over my body and start to dose off. I wake up to the sound of a mosquito in my ear. It wakes me up halfway and I smack myself hard in the head. OW!
I'm awake now. I turn the light on and grab a shirt. I turn the shirt into a mosquito-killing weapon and go on a rampage.
After I cleared out all the mosquitoes I go back to bed and drift off to sleep.
Bzzzzzzzzzzzzzzzzzz – thwap! I smack my head again.
OK. Now I'm hot and sweaty, covered in mosquito bites and I've been hitting my head and despite my best efforts to kill all the mosquitoes in the room I'm SOL. Finally I'm so tired that I fall asleep and wake up eight hours later covered in red dots.
The next morning after a nutritious breakfast of cinnamon rolls, we head out fishing. Mike tells me that they're biting and that he's already caught five. Ken, Shane and I go out on the lake to check things out.
None of us catch any fish – just lots of seaweed. But no worries, it's not always about catching fish. And besides, the mosquitoes don't come out on the lake.
After a great morning out on the lake we grill up some burgers and relax. I love food. Shane and I finish off the last of the burgers and decide that tubing would be an appropriate after-lunch activity. I also love swimming after I eat… just because you're not supposed to.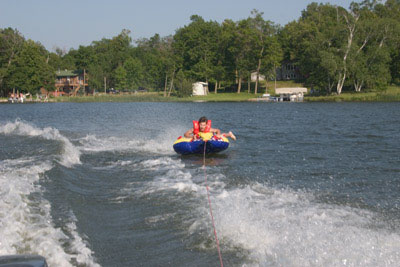 This is Shane tubing.
Ken decides that we'll catch more fish if Shane and I snorkel to find them. Shane and I quickly discovered that the reason we weren't catching fish is because there weren't any—however the visibility in the lake was decent for freshwater. About 20 feet down there is a thermocline, which is a sudden change in water temperature. The temperature will change from about 75 or so down to about 50. The warm water sits on the cold water like a layer.
Having a wetsuit on, I decided to see how far down I could actually get. The deepest part of this lake was just over 41 feet. Armed with my wetsuit, mask and flippers I jump in and start breathing to prepare for my dive.
I take in a deep breath several times. One last breath and I start diving down. Kicking hard I push deeper and deeper until I hit the thermocline and I can feel the freezing water around me. Diving without weights in a wetsuit is hard because (unlike me) wetsuits are buoyant. About 10 feet after the thermocline the urge to breath is unbearable from kicking so hard.
I start to ascend and the warm water above felt like a hot bath. I start to see stars. I picked a good time to resurface. I was thinking about making another attempt without the wetsuit, but 50-degree water without a wetsuit? Maybe next time.
Later that afternoon, Ken introduces me to his brother Robert and Robert's wife Anne.
Robert and Anne live across the cul-de-sac from Ken. We walk over to their home and it is beautiful. Robert and Anne bought this cabin a few years ago in really rough shape. It only had a couple of windows, no flooring and no ceiling—in other words, pretty much just logs with a roof.
Now their cabin is fully finished with a beautiful open floor plan, tile flooring, tongue-in -groove woodwork, marble bathrooms, granite counter-tops and beautiful huge windows to show the amazing lake view.
The incredible thing is that Robert and Anne have done all this work themselves. They haven't hired a single contractor or company to do any work on their house. Robert and Anne have done it all, from sawing holes in the logs (to make room for the new windows) to hand-finishing every board of woodwork in their home. Anne even purchased custom glass bowls and with Robert's help, made their own custom pedestal sinks.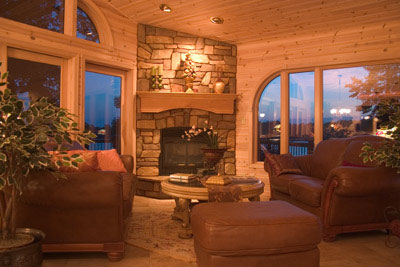 This is Robert and Anne's cabin.
My favorite feature was the kitchen. Did I mention I love food? Really love food.
Now Ken brought 4 lobsters with him, one of which was 4 ½ pounds. And Shane explains that he doesn't like lobster and that he'd rather eat hotdogs. It's really amazing to me that anyone can eat a hotdog. It's even more amazing when you get to eat more lobster because a 14-year-old kid opts to eat hotdogs instead. I'm not complaining.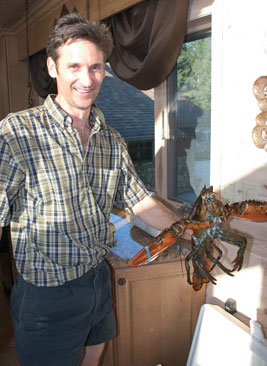 This is Robert holding dinner.
Robert also grilled shrimp with some special blend of spices and they were phenomenal. Can you tell I was in heaven?
Our evening ended with an attempt at a bonfire. The reason I say attempt is because the mosquitoes came out. Numerous bites later we decided that the searing heat from the fire combined with the smoke wasn't enough to keep the mosquitoes away.